Put your marketing on autopilot
SMART is AFG's custom built marketing program created for brokers, to help grow their business and revenue.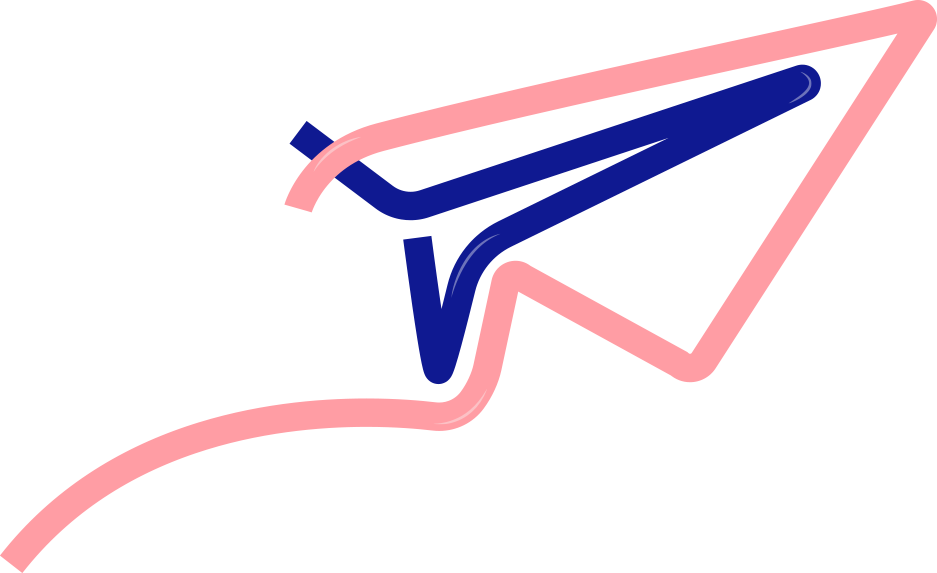 SMART Marketing Campaigns
Keeping your business top of mind when your contacts are considering their financial needs is half the battle – and that's where AFG's SMART marketing program can help.
A core feature of SMART, the delivery of regular and effective email touch points with prospects and customers, keeps brokers front of mind and positioned as the finance expert.  SMART campaigns target your FLEX data, reaching out to the right contacts at the right time with the right message.  SMART does it all for you.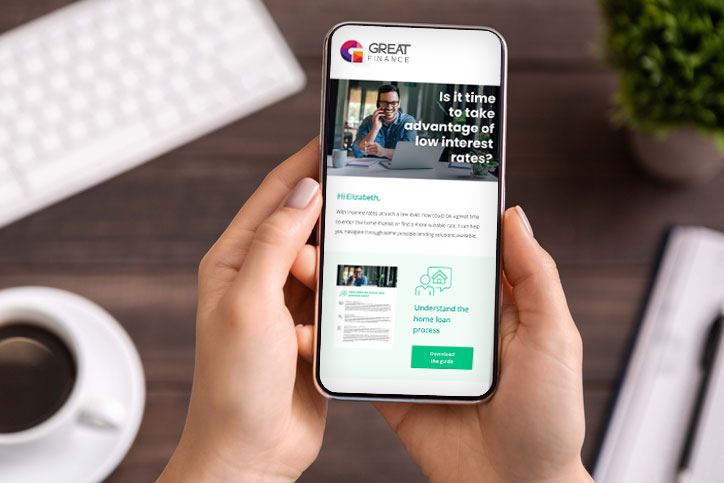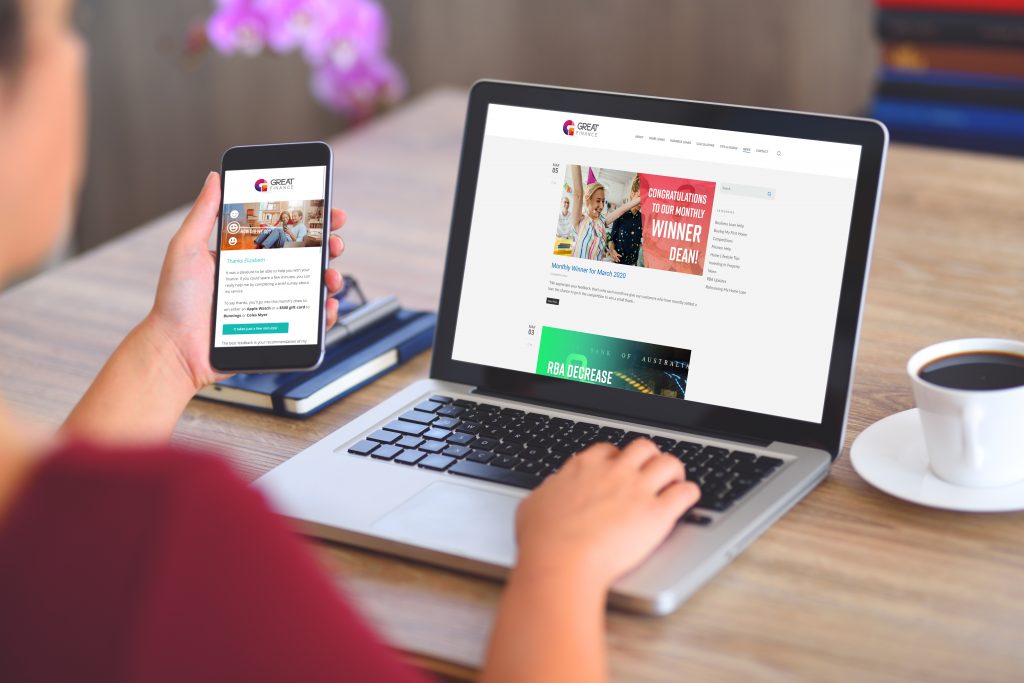 A professional website is your number one marketing asset and, for many businesses, one of the few ways potential customers decide if your business is right for them. With SMART, you get a hosted, customisable and branded website included in the package.
You'll get access to the administration panel for your SMART website to customise the website to your business needs if you wish.  Add pages, edit content, choose different imagery, or add your own blog articles. 
You can use your own domain name or the one we create for you.  The choice is yours.
SMART members automatically benefit from customer Red Alerts in FLEX.
Red Alerts are driven by an Artificial Intelligence (AI) algorithm using a combination of microdata points to identify residential home loan clients who might be thinking about changing their current situation.
SMART brokers are provided with a list of Red Alert customers directly into FLEX and then have the option to automate a SMART campaign to the customer or contact them directly.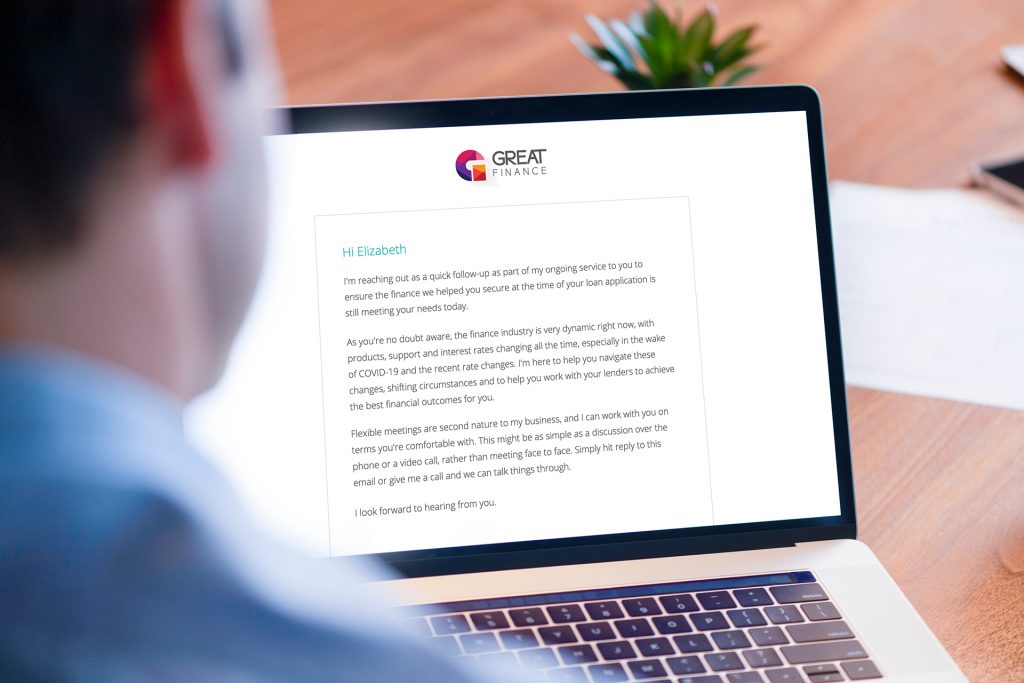 Outsource the time-consuming operational elements of your marketing while keeping costs down.
SMART email campaigns are sent on your behalf, to your database, with your branding and contact details. All replies go straight to your inbox.
Hosted and managed, your SMART website gives you the online presence your business needs.
Take action with your Analytics
AFG Analytics - business intelligence tool to uncover your data trends and insights.
Tailored content to your target audience
SMART includes professionally produced and written quarterly newsletters, and a content library of social media images and posts.
Build relationships and hunt for new business
The automated product and loan term email campaigns are designed to build relationships, maintain your contact cycle and hunt for new business.
Share your social media content
Our range of tips and tricks will help beginners through to more advanced social media users.
SMART marketing for a growing businesses
Business SMART Add-on
Marketing to your SME clients and lead generation from your residential database.
Dedicated business finance page on your SMART website
Quarterly SME Business Insights e-newsletter
Introduction as a business finance broker
Bi-annual prospecting message to non-SME database
Five acquisition campaigns to SME database each year
Welcome message to new business contacts
Thank you message on settlement
Check-in message to business customers
SMART
Marketing to your residential database.
Fully branded and functional SMART website
Welcome campaign to FLEX database and new contacts ongoing
Loan Tracker on lodgement
Thank you settlement campaign
Red Alert AI customer campaign
Three-year anniversary review
Quarterly finance and lifestyle Haven e-newsletter (additional cost)
Access to social media image and content library
Full Analytics business intelligence access
Commercial SMART Add-on
Marketing to your active commercial customers with deals written in FLEX.
$
47.10
Additional/per month
Quarterly Procure Commercial e-newsletter
Thank you message on settlement
Check-in message one year after settlement
Time to review message 2.5 years after settlement
Prices are correct at time of publishing and are subject to change
It's no accident that AFG won Aggregator Marketing Platform of the year for 2018, 2019 and again in 2020. SMART marketing is our custom-built, industry-leading marketing platform designed to help brokers business achieve great outcomes both for their customers and their bottom lines.
Ready to get started with your own marketing team?